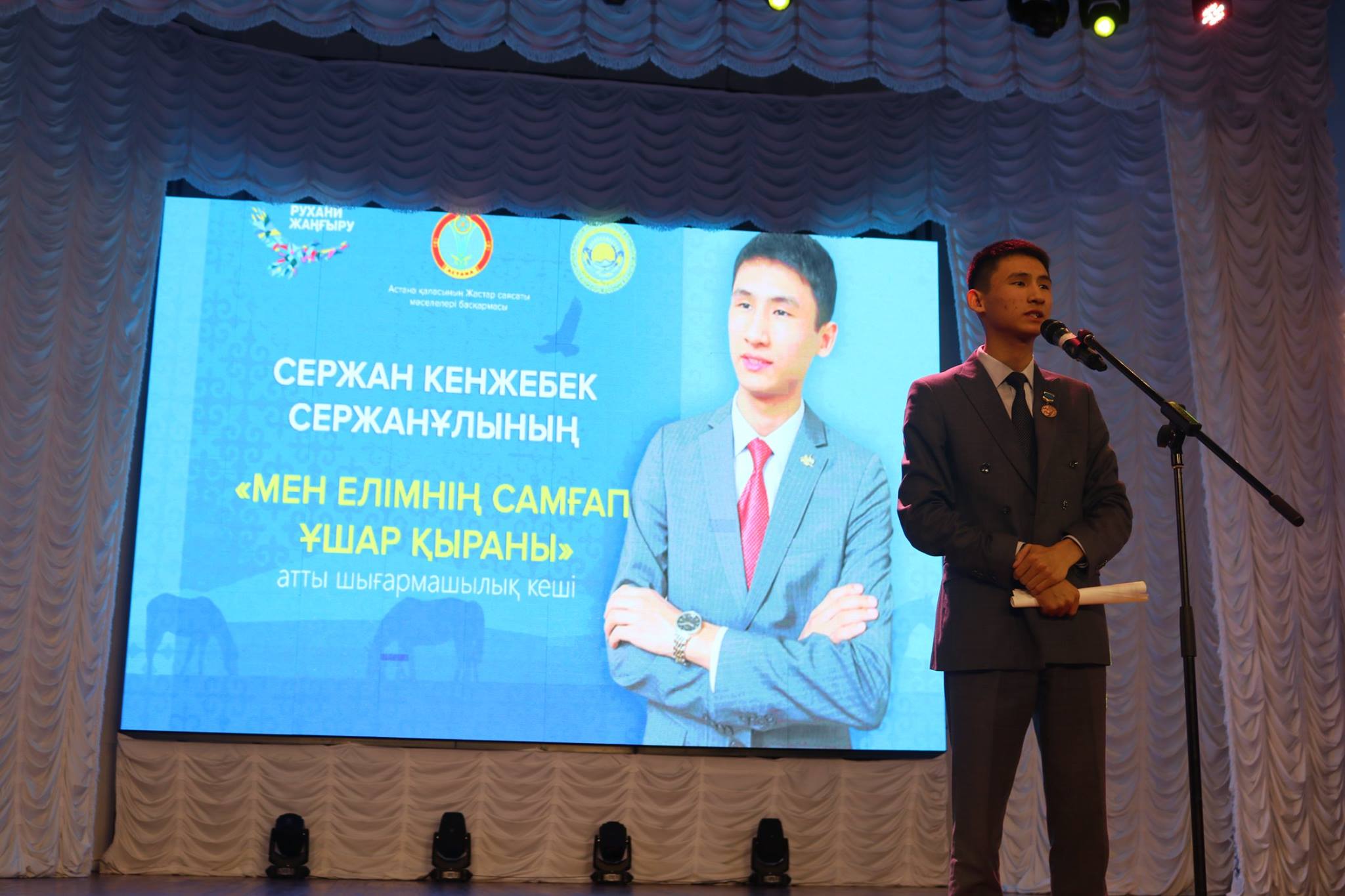 On November 22, 2014, the Department of Youth Policy Affairs of Astana organized and held a creative evening of Serzhan Kenzhebek Serzhanuly, a young poet of the capital, a member of the Union of Journalists of Kazakhstan Serzhan Kenzhebek, within the framework of the «Origins for the Future: Ruhani zhangyru» article and 100 new names. The event was attended by state and public figures of the country, deputies of the Parliament of the Republic of Kazakhstan, figures of art and students — young people of the Kazakh National University of Arts named after Zh. Zhabayev.
The main purpose of the creative evening is to introduce creative works to the whole world with their works, despite the fact that many talented youth of the Kazakh nation have appeared in wave moments of Kazakh literature.
At the evening Head of the Department of Youth Policy Affairs of Astana Askhat Oralov congratulated the late owner and wished good luck in his creative work to the native of Mangistau, Kenzhebek Serzhanuly. Deputy Chairman of the National Council of Veterans, public figure Umirzak Ozganbaevich congratulated the young poet on the event and congratulated him on this evening. The evening was full of funny singers, singers, singers, poets and poets.
Secretary of «Nur Otan» party Kanybek Zhumashev wished the poetess to be a poet, who contributed to the world of poetry. Kenzhebek Serzhanuly was welcomed by the public figure Omirbek Baigeldy, Professor Myrzagel Kemel, Honored Artist of the Republic of Kazakhstan Kenzhegali Myrzhykbai.
Bakhytgul Targynbaevna, the mother of the «Altyn Alka», the mother of Kenzhebek Serzhanuly, who has 11 womb, thanked all the guests and shared her joy. Traditionally, the young poet traditionally gave his poems and poems to the elder brothers.